Ferry Meadows Railway has been here since the park opened to the public in 1978, and over those years there have been quite a few changes, and we hope a few more to come soon.
The track is laid to a 10.1/4″ inch gauge, it is a very popular gauge for miniature railways as it gives a stable and comfortable ride to the passengers.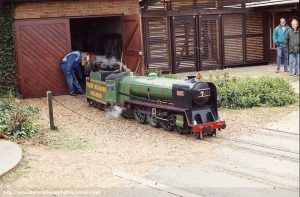 The railway started off with a single steam locomotive called Henry and five or six open coaches, it then doubled in size after the staff built a very large diesel locomotive called Harvester, after a while Harvester was sold (That loco now runs at the Wells and Walsingham Railway in Norfolk)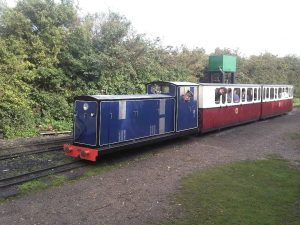 Next on the scene was another steam locomotive called Ivor, it was built by the staff at FMR, a lovely little locomotive and it was very popular with the passengers, it was sold to a private railway in Surrey to make way for our current loco Charles.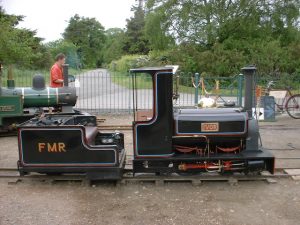 I bought the railway from the original owners in November 2007 with locomotive Charles and the six coaches, at that time Henry was sold to a private railway near Kendal in the Lake District after giving about 22 years service.
After we bought the railway we set about making some improvements by erecting new fences and building new platforms at both ends of the track, after that we laid a new crossing by the engine shed before rebuilding both turntables.
In November 2012 we took delivery of a brand new steam locomotive, a half size Darjeeling B Class built by Laurence Hall of Peterborough, at the same time Laurence joined us as a staff member at the railway.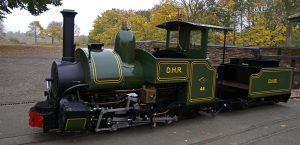 About the same time as the Darjeeling arrived we bought another locomotive and four coaches from Drayton Manor Park in Staffordshire, the first job that Laurence took on was to renovate and adapt the coaches for use at our railway, they where completed and put to work for the first time on Halloween night 2012.
The locomotive an American Rio Grande style has yet to see service at FMR, it keeps getting pushed to the back of the shed when other projects take over, I hope to start work on it this year.
Fingers crossed we will start work on the rebuild of this locomotive over the winter of 2019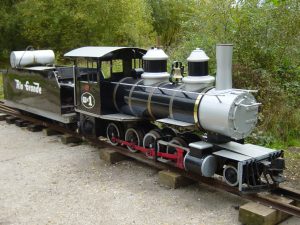 The next item to be built was our very successful Wheelchair coach, again built at the railway and put to work on June 8 2014 it has allowed many people to ride the train with friends and family while remaining in their wheelchairs.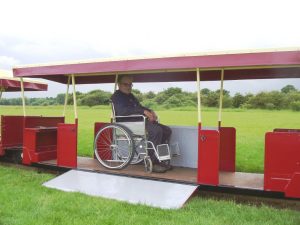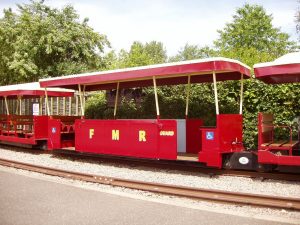 In July 2014 we built a water tower to serve Darjeeling No44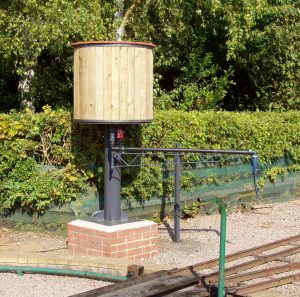 We now have a pair of trams added to our list of locomotives and rolling stock, they were put into service on the 4 July 2020, and as of 2021 you can now bring prams and small children's bicycles on with you, we have a truck dedicated for that purpose.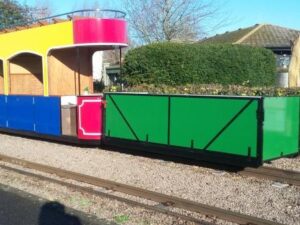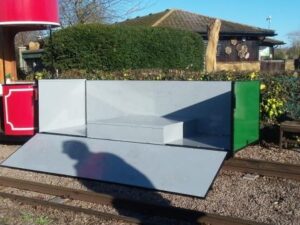 Updated 11 September 2021